Angle Master
The Richard Kell Angle Master is a unique set of seven very accurate angle templates including 45°, eliminating any calculations to set a machine 'spot-on'. Produced to one thou inch tolerance along any four inch edge, tooling produced using toolmakers sine bar and inspection grade slip gauges. The cuts per 360° circle are 4,6,8,12,24, and 32.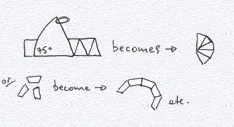 Hint: play around with scissors, paper and these angle templates and you will not be able to hold back from cutting and amount of different mitres.
Leaflet included
Price £14.28 inc vat.