Reliquary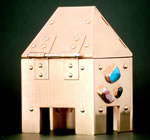 I only ever made one of these reliquaries, a loose copy of typical medieval work. Constructed of 1/8 inch copper sheet, flashed with a few microns of gold, height 4-1/2 inches tall, I hand burnished the gold surface with the traditional polished agate burnisher. The stones include agate, amethyst, garnet, quartz, rutile and tigers eye. It is surprising how many man-hours this project consumed, though I particularly enjoyed making the stone settings. There are excellent examples of mediaeval metalwork at the Cluny Museum, Paris, one of my favourite museums and well worth a visit, the entrance courtyard is wonderfully atmospheric. Please click images to see it in larger format.
Steeple Engine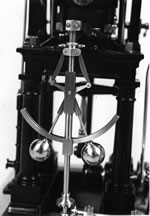 I made this working model steam Murdoch Aitken Steeple Engine when I was about twenty years old, the original appeared in Blackies 'Engineers and Machinists Assistant' of around 1841, I made this so long ago am unsure of the detail. It is probably one inch to the foot scale and is a popular prototype among model engineers. The commercially supplied drawings left a bit to be desired, a good practical engineer should never let himself down with poor draughting and incorrect dimensions. Yet however a sound workable engine resulted, lots of authentic detaiI such as gib and cotter big ends, fish bellied connecting rods and split bearings wherever possible. The governor and governing mechanism worked, thoug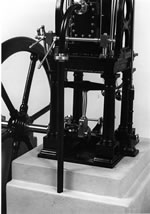 h at the time I hand finished the homemade bevel gears which transmitted the drive so it didn't run as sweetly as it should have. The procedure there should have been to produce completely the finished tooth profile by means of cutters, eliminating handwork; Martin Cleeve wrote some good articles in mid 60's M.E. on the subject. I unfortunately soon sold the engine at Christies in order to raise money for a deposit on a house, what a stupid thing to do! Please click images to see it in larger format.
e&oe copyright 2012-15© Richard Kell
http://richardkell.livejournal.com - my workshop blog.