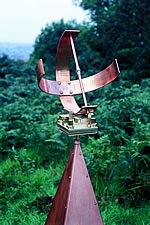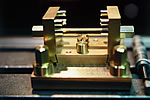 My Dad always had a home workshop with an engineers lathe along with boxes of old magazines 'Model Engineer', 'Woodworker' and 'Practical Wireless'. These have formed the basis of my interests. Following that wood and metalwork at school were perfect for me!
I served a 5 year apprenticeship at Hardy Bros. of Alnwick plus four years in their design development department.
I started self employment in January 1983 exploring exquisite small jewellery containers and craftsmanship along with the start of my range of high quality marking and measuring hand tools and more recently three unique new designs of honing guides for woodworkers.
From 1986 until 2000 I produced masses of tooling for high volume circuit board assembly.
Around year 2001/2002 I developed and made six kinetic sculptures/mobiles for David Linleys London showroom. A fascinating project of 600 hours that led us into some very interesting areas of design and problem solving. Lots of original solutions. I think we worked together very well. I enjoyed sharing my knowledge with them.
I've covered vast areas of design and development including, during the 90's my own range of highest quality hand made fly reels.
My handmade fly-fishing reels represent two thousand hours of design, development and tooling up, the working miniature silver reel as with most of my products is unique. During the early 1980's I occasionally repaired Hardy fly reels for Jamie Maxtone Graham; it was a pleasure to work for him. Recently a friend of mine in the States used my working sterling silver centre joint and reel seat to have built a unique split cane fly rod.
I was interested in model engineering before I could read, boxes of old 'Model Engineers' fed my brain. More than thirty years ago as a teenager I was fascinated by making workshop equipment, building three different lathe oval chucks, including one for between centres (that's the Holtzapffel and eighteenth/nineteenth ornamental turning work creeping in). Other completed working equipment of thirty years ago included a filing machine to cope with the column apertures in the Steeple Engine, Edgar T. Westburys 1/4inch sensitive drilling machine, all sorts, even a gear hobber. Though on reflection the gear hobber was perhaps taking home construction too far as regards working machine tools, it did make for a fascinating project. I was hungry for the experience. My advice now would be to buy the commercial machine tool and resell later to recoup your capital, yet at the time limited funds precluded any such option.
My standards are very high and I will not tolerate any deviation from "as good as can be done". I like to use a lot of old-fashioned techniques that have been discarded by most manufacturers. I read widely, if I had to choose a handful of books, I would plumb for Holtzapffel's 5 volumes "Turning and Mechanical Manipulation", George Sturts "The Wheelwright's Shop", anything by Edgar T Westbury, Martin Evans, LBSC, Kenneth Frampton's "Modern Architecture", Bergeron, Diderot. And if you're into design "Freshwater Algae" by Fritsch and West is incredible, Vers une Architecture by Le Corbusier and my latest fascination; learning Mandarin, the written side of which I find fascinating!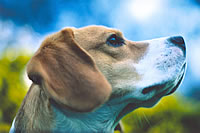 On a more personal note I would like to include two photographs of our Beagle Snuffy Rossmaith Searcher. He passed away peacefully aged 13 years 4 months while on holiday in Cumbria 8th September 2005. Buried in the garden of our friends John and Edna at Loweswater. We were always together, excellent company, he led a full and active life. Lots of people knew us, I'm sure they're pleased to see his photo on the web!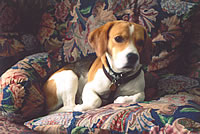 I have been supplying my woodworkers hand tools to Robert Larson - San Francisco and Garrett Wade Company - New York since the early 1980s so you can buy with confidence knowing you will be getting a quality service and outstanding product.
e&oe copyright 2004-15© Richard Kell